Today I'm inspired by…Owls. Perhaps it's the association with education or the fact that they are quite hot in decor and scrapbooking lately. I just picked up a cute piece of flair for my school lanyard from the American Crafts booth at Scrapfest this past weekend- an adorable little owl from their Halloween collection. Here are some fun owl things I found on the web.
Brooke Sheeting from Pottery Barn Kids Inspiration point: These little owls would be so cute to paper-piece with different patterns and colors. I think the owl on the pillow is super cute but I had to include that pink owl with the corduroy face, too!
Owl To-Do List from 29 Olives Inspiration point: I like how the lines aren't perfect and the little owls are so adorable. Maybe I could use my circle punch to make the belly of the owl like these guys.
Lola the Owl Pillow PDF Pattern by ginia18 on Etsy Inspiration point: I love how these patterns are put together- this owl has such beautiful eyes!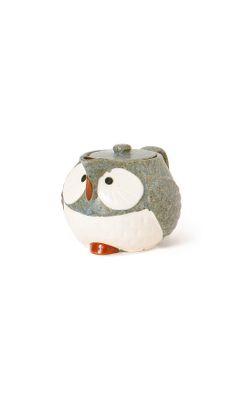 Owling Sake Pot from Anthropologie Inspiration point: How could you pass this little guy up? This color combination would be great- white and gray with a little bit of black and orange.
Printed Cotton Rug by Urban Outfitters Inspiration point: I like the mix of colors and patterns on this one…I know I have some scraps with busy patterns like this that would look great as owls.
Today I'm inspired by…Charley Harper. He was an amazing artist/illustrator who specialized in wildlife prints. Though you may not know his name, you will probably recognize his art. Todd Oldham (the designer) wrote a book about Charley Harper's life and art called Charley Harper: An Illustrated Life. Unfortunately I don't have $135 to drop on that coffee table book, but maybe this memory game, children's book , or coloring book would be more in my price range. Here are some more pieces from Charley's collection:
Today I'm inspired by…birds. It seems like they are popping up everywhere- and not just outside. We have been watching a family of birds that made a nest near our home and they seem to have moved along. T has loved seeing them hatch and grow. Here is some birdy inspiration from the web:
Birdcage Tapestry from Urban Outfitters Inspiration point: I think these colors are great together. I always tell myself to try to use white for a background and it usually doesn't happen. The large dose of white with hints of brown, orange, teal and yellow looks great together.
Pigeon Vase by J. Mendicino Inspiration point: I just think this little guy is cute! Definitely something I could paper-piece on a layout or draw freehand. Check out J. Mendicino's website for other birds (like quails and sparrows).
Happy as a Lark Coasters from Anthropologie Inspiration point: Aren't these colors great together? I also like the little flowers and dots in the background.
Journal Notebook- Green Birds by Zany on Etsy Inspiration point: These birds are so cute! Definitely doodle-able. I also like the variety of colors that make up the pattern.
Blue and Yellow Bird Brooch by BlueTerracotta on Etsy Inspiration point: Isn't this guy cute?! I love the mix of fabrics used on this bird…check out BlueTerracotta's Etsy site for more birds.
Graphic Plates Series 8 from Urban Outfitters Inspiration point: I love office supplies (you may remember from a previous post) so these plates caught my eye. I think it would be cool to use the office-themed papers and apply rub-ons that wouldn't necessarily "go" with that type of style.